Any size ground plastic, $ASK
MISCELLANEOUS VIEW CAMERA PARTS
20X20" OD hardwood carier frames with readily removable bellows frames from Clydesdale camera, high quality construction, finger joints at corners, would be good for 11X14 or 14X17" camera rear standards, $300 each or will trade one for 14X17" filmholder
64" long Aluminum extrusion ideal for use as large format (14X17 or 16x20 or 20X24") camera monorail, Ex, $150 each, 4 or 5 available. You may see pictures of an altered one of these used on a 16X20 camera that I built on my View Cameras web page.
FOCUSING LOUPES, inspection magnifiers
Leitz 21mm viewfinder without the front glass. As is, it serves as a very compact loupe. Magnification about 6X to 8X. $75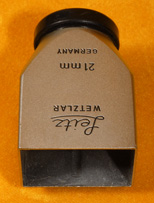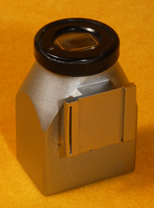 5X Kodak Achromatic focusing loupe, coated, round clear plastic base, boxed, crack in plastic base, $45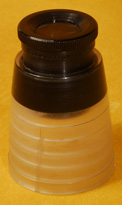 Collapsable metal framed quality loupe with 1" square viewing area with 1/8" grid. About 5-10X magnification I guestimate. Professional graphic arts loupe. Informally called a "linen tester." It got wet. The multiple element glass lens needs interior cleaning. Lens elements are held in with a threaded brass retaining ring. Functions as-is, but the image is compromised. $20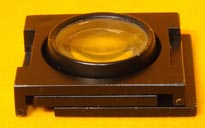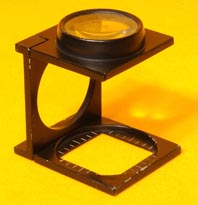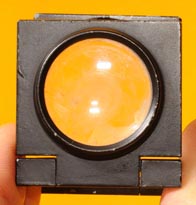 8X acromatisch, 1X1X1.5", clear plastic base, fixed focus, Ex+, $15

8X Edmund, adjustable focus, clear plastic base, 1.5X1.5X2", plastic case, box, NEW, $5

p>
LIGHTMETERS
Minolta Spotmeter F, case, instructions. It was used to determine the exposure for this image; you may check the EXIF data. This is the meter to use for strobe light. Also reads ambient light. Absolutely accurate! Reads out to 1/10 F-stop. Mint, $450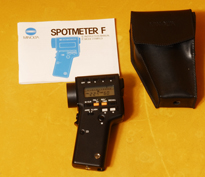 Sargeant Welch Transmission light source with adaptor to accept Pentax digital spotmeter which will become the heart of your densitometer, variable brightness, w/extra bulb, several aperture disks, spring loaded overarm holds light meter, instruction book, schematic, stabilized power supply, $OLD. Need parts or accessories for this unit? You will find them listed on my Darkroom Equipment-Timers, Analyzers, Densitometers and more web page. If you own a Pentax digital spotmeter, then you know that it is absolutely accurate and consistent. You trust it for your field light readings. Why trust anything else for your laboratory light readings. I can sell you a 21 step negative density step wedge for $50. Or, if you prefer, an EV/density translation scale based upon readings from the 21 step scale is available for $10. Note: practically every densitometer I have ever used other than the old Kodak comparison densitometer has proven to be unreliable over the long run. This Sargeant Welch Transmission light source is just a light source as is the Kodak comparison densitometer. It does not have any of the trouble prone parts of the more complex densitometers. You trust your Pentax digital spotmeter in the field; it only makes sense to trust it in the darkroom.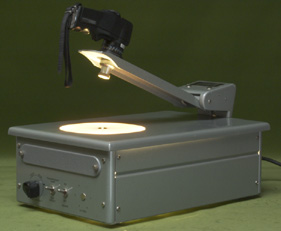 Minolta reflected light attachment, boxed, instructions, Mint, $14
Leica Meter MC, not functioning, cosmetically Mint-, $15
Leica Meter MC, not functioning, cosmetically VG, $5
Both of the above meters, as a lot, as-is, $18
LIGHT METER INSTRUCTION BOOKS
Gossen Lunasix 3 instructions, 31 pages, in German, Ex, $15
Gossen measuring probe instructions, 17 pages, Mint, $20
Gossen Panlux Electronic Footcandle Meter instructions. 4 pages, copy, $10
Gossen Luna Pro Tele variable angle attachment instructions, small booklet, Mint, $10
Gossen Ascor electronic flashmeter instuctions, 13 pages, Mint, $20, Ex, $10
Pentax 1/21 degree instructions, Mint, $15, Ex, $10
Weston Master II model 735 Universal Exposure Meter instruction book, Ex, $20, copy, $10
Weston Master II model 736 Cine Exposure Meter instruction book, Ex, $20, copy, $10
Minolta color meter instructions, this must be for the original model, copy of, VG, $15
Minolta color meter II instructions, Mint-, $35, copy of, $20
SINARSIX METERS--see my Sinar web page.
Miscellaneous BELLOWS
When you price custom made bellows be sure to consider the time it makes to make them. From some manufacturers, that will be months. And sometimes, for various reasons, they are not what you expected when you do get them. At least one bellows manufacturer accepts no returns. Many manufacturers know how to make bellows for machinery, etc., but not for cameras. Many bellows makers bellows will not have the right stiffness/flexibility. Some manufacturers are overseas; shipping can be expensive. New or used bellows made for some other purpose may be difficult for you to adapt to your camera; build your camera around the bellows if possible. If you can find some bellows made by a quality bellows manufacturer specifically for your camera, buy them. You might want to consider making your own bellows. Jack Deardorff showed me 12 pages of calculations he made for making 12X20 bellows; BTW, the precision required is difficult for the novice to achieve. There is a very steep learning curve. Bag bellows, however are not difficult to make yourself.
Bellows material with the right stiffness/flexibility for bag bellows. Approximately 50X34" in size. 0.018" thick. Vinyl coated woven cloth with a slight sheen on one side and matt finish on the other side. $20 each piece. 2 pieces available.
4X5 bellows from Durst L1000 enlarger, Ex, $100
8X10 bellows, from either an 8X10 or an 11X14 Fotar enlarger, will list specifics upon demand. There is some information and photos on my 8X10 Enlargers, Enlarging Heads, etc. web page.
Most of my bellows are listed along with the cameras or enlargers that they fit. Sinar bellows will be found on my Sinar list, Durst bellows will be found on my Durst list, etc.
4X5 bellows, no frames, 5.5X5.875" O.D. ~6" extension, probably enlarger bellows, black, Ex, $40
4X5 bellows, no frames, 6.625X6.625" O.D. , 5.5X5.5" I.D., ~10" extension, IFF Italian enlarger bellows, black, Ex, $60
4X6 bellows, black, ~6" extension because they are a little bit stiff, 3.5X3.5" front frame, 4.75X6.5" rear frame, VG, $25
11X14 bellows from 11X14 Consolidated enlarger, with front bellows frame, light tight. Bellows extend to 30" and collapse to 4". Front outside dimensions are 10.75 X 13.5". Rear outside dimensions are 15.25 X 17.375". Rear inside dimensions are 13.75 X 15.75". $200. Note: I have other components from this 11X14 Consolidated enlarger.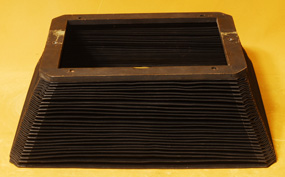 16X20 bellows from NuArc copy camera, ~20" extension, light tight. They were never under much stress on the copy camera....merely being extended stright out and back within their designed working range. The bellows are made of 2 layers of a very heavy duty cloth with stiffeners inbetween. The bellows are as good as new and should last a very long time. I have 2 of these bellows. The one seen here has front and rear frames. The other has just the front frame. The choice is yours. If your lens has a longer focal length than the bellows, build a rear carrier frame with an extra long box and add the bellows to the front of the box. So, if you have a 1000mm lens, build a box about 900mm long and add these bellows to the front, so that you may focus from infinity to as close as the bellows will will allow. $300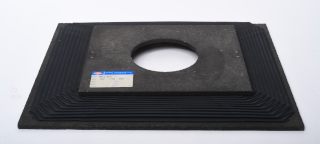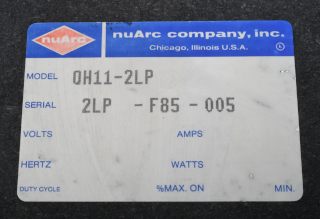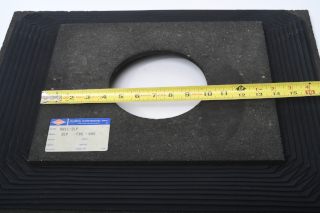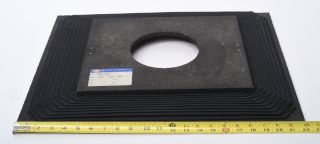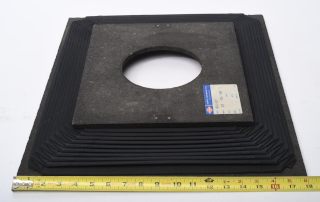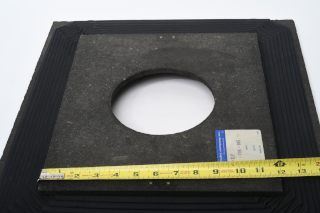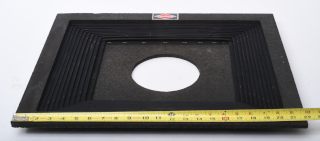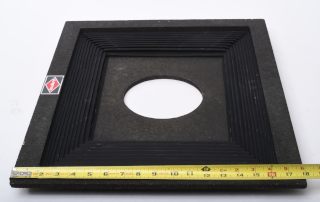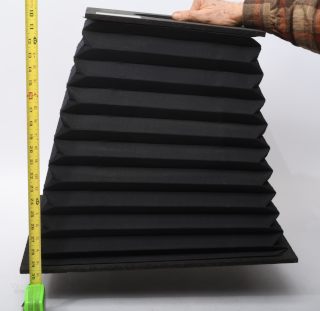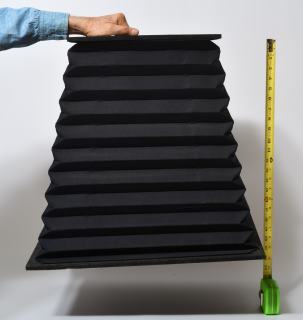 This is the 16X20 bellows from NuArc copy camera with just the front frame....illustrated separately so you will not get them confused. $300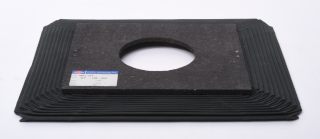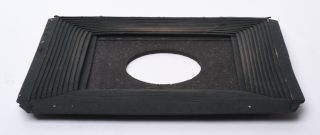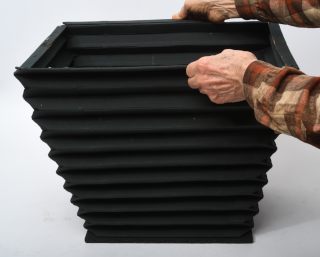 CAMERA KNOBS
Building your own view camera or rebuilding a camera? KNOBS, 1/4-20TPI threaded brass socket in black plastic knobs. Say you need knobs with a threaded stud. Cut a length of threaded rod to length and epoxy into the socket of this knob for a custom made-to-order knob. $1 each, 10 for $8. 50 for $35. 100 for $60.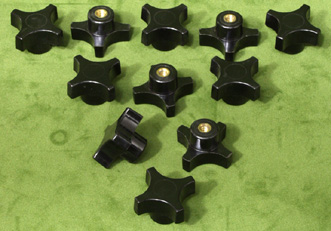 UNIVERSAL DIAPHRAGM LENSHOLDERS
These are devices that attach to your lensboard and allow you to quickly mount virtually any lens to your lensboard. UDLs are found on my VIEW CAMERA LENS ACCESSORIES web page.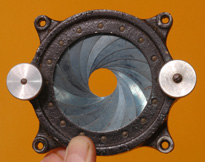 VIEW CAMERA CASES
Sinar cases are found on my Sinar web page. Linhof cases are found with Linhof cameras on my View Camera web page. There is a case for an 11X14 F&S camera on my View Camera web page.
5X7 folding field camera hard fiber case. Hard fiber is thin and tough. The top rim is reinforced with metal. The corners are reinforced with metal. The divider is metal riveted to the sides. Interior dimensions are 16.25" wide by 5.5" from front to back and 12.5" deep overall. The left compartment is 8.5" wide. The right compartment is 7.75" wide. This case is very light weight. $40.
Calzone case, very heavy duty, metal edges and corner protector, 1/4" Formica covered plywood sides, folding handles on side and end. Designed to stand vertically with feet at one end or lay flat for access, provision for adding padlock (padlock not included), foam interior will accept dividers, 10X17X23" outside dimensions, 8X14.5X20.5" inside dimensions, weighs 20#, very expensive new, 2 used available in Mint- condition for $250 each or both for $400.
Calzone case, very heavy duty, metal edges and corner protector, 1/4" Formica covered plywood sides, folding handle on side. Designed like a briefcase, foam interior with foam dividers. Lower section has 2 compartments 3X4X12" and 3X10X12" in size; center divider of lower section could be removed to provide a 3X12X15" space. Upper section is for papers or smaller items. If all dividers were removed, the inside dimensions would be 5.5X12X15". Outside dimensions 7X13.5X17". Weighs 13#. Very protective case. Would be great for your valuable laptop, your other small electronic gadgets, and some paperwork. $150.
Graflex Vulcanoid Handicase, cat. no. 4268, 9X11.5X18.5" long, 6 compartments for press or field camera, film holders, accessories, lightweight hard fiber. Shown with 4X5 Crown Grafic and accessories--not included. Ex+, $60
Many cases on hand, Haliburton, hard fiber, etc. Sinar, Linhof and cases for specific cameras listed w/cameras
LENSBOARDS
I can oftentimes supply you with the lensboard you need. I always have Sinar lensboards in stock. Sinar, Deardorff, Linhof, Kodak Master View, Cambo and some other lensboards are listed with the cameras that they fit on my VIEW CAMERAS web page. Other lensboards are listed on my VIEW CAMERA LENS ACCESSORIES web page. I can manufacture lensboards. I can bore holes in lensboards and mount lenses on lensboards.
---
about GLENNVIEW, orders, inquiries
---
email to glennview
---
return to the TABLE OF CONTENTS for GLENNVIEW
---