SPORTING GOODS, etc.
A2B HYBRID. A2B bicycles were designed to be electric from the beginning. Electric bicycles have special requirements. The frames need to be extra strong to accommodate the tremendous torque. If you do not want a rat's nest of wires and appendages, you will need to route the wires through the frame. Extra well made tires are required. Suspension is virtually a necessity. Disk brakes are required. Etc., Etc. A2B bikes were designed in Germany by an industrial engineering team. The motor is virtually silent as there are no gears in the motor. The A2B Hybrid is a pedal assist bike. It has several levels of assist. There is no throttle. You must pedal, but you need not pedal very hard with the electric assist. This bike has a front suspension fork and a suspension seat post. The wires and the controller are mostly within the frame. It has Avid bb5 disc brakes. It has Maxxis Overdrive Excel tires specifically designed for electric bikes. It has 7 speeds with a reliable SRAM X-3 shifter. A newer 36V 10Ah battery is included. A battery charger is included. The battery will take you farther with you pedaling. The battery took me about 25 miles. If that is not enough for you, I can offer you a 2nd battery at additional cost. The nice thing about 2 batteries is that you can travel as far as one battery will take you and expect to get back on the 2nd battery. The frame, with it's highly adjustable seat is designed to accommodate most all sizes of people. The bicycle has a top speed of about 20 miles per hour. The ebike grin that comes with riding an ebike is free. $750.
MASI SOULVILLE 7. Most of the parts are labeled MASI. MASI is obviously proud of their creation. Paint job is nearly perfect. Bike has a Sram 7 speed hub with coaster brake. I added afront rim brake for safety because my feet are not always in the right position to activate the coaster brake. Leather seat. Carbon fiber seatpost. 28X 1 5/8" 700 C38 and C40 tires. This bike is most like the Electra Townie in my experience. It is lightweight and comfortable to ride. GORGEOUS BIKE. The MASI leather seat, or ball buster, has been sold and I reduced the price of the bike accordingly. A more comfortable black gel seat has been substituted. $470.
VINTAGE ITALIAN HIKING BOOTS. Quality velvet finish leather exterior. Fully leather lined. Size 10 1/2 medium. Fully gusseted tongue. Designed for comfort, they still provided exceptional stability and traction. The boots have had little use. These boots were so attractive that I seldom wore them. I did not want to scuff them up. Those are even the original shoelaces. Lince soles with soft foam rubber between the boot and the sole. The soft foam rubber is deteriorated. The boots need repair, so they are only $50.
MacGregor "Lloyd Budge" 4 3/4" Heavy Laminated Bamboo Fiberglass reinforced tennis racket. $25.
Slazenger Junior Club 3 4" tennis racket. Want to play tennis with your youngster? Buy this club and the above club for $30 total. $15.
WORKSMAN PAV-3 TRICYCLE PARTS
WORKSMAN PAV-3 TRICYCLE BASKET. Rear "trunk" basket with reflector. $30.
WORKSMAN PAV-3 TRICYCLE BASKET AND SHELF. See the above and below listings. Both items purchased together, $50.
WORKSMAN PAV-3 TRICYCLE TRUNK SHELF. Supports the rear "trunk" basket. I added the plywood, which is easily removed....being held on with screws and nuts. $30.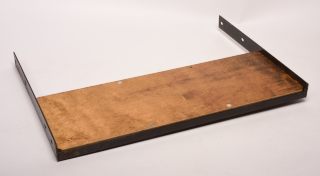 WORKSMAN PAV-3 TRICYCLE SEAT SECURING T-BOLT. $12.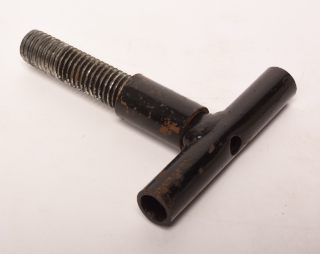 EVERLAST LEAD WEIGHTED HANDLES JUMPING ROPE. Also with ball bearings and leather rope. model 4477. 9 1/2' long. $30.
CHAINRINGS FOR 144 BCD CRANKS SUCH AS CAMPY NEUVO RECORD
42 tooth chainring, 144BCD. For 39 years I rode a Raleigh Professional with 53 and 44 tooth chainrings on a Campy Neuvo Record crank. I installed this 42 tooth chainring in place of the 44 tooth and used the 44 tooth as the larger chainring and I was again riding as if I were still a young man. Finally I found a bicycle I liked better than the Raleigh Professional. I sold the Raleigh Professional. The buyer of the Raleigh Professional wanted the 53 and 44 tooth chainrings. So I have this chainring that I have no need for. 42 tooth chainrings to fit a 144 BCD crank are difficult to find. Although Sugino, not Campy, you will not feel any difference. 42 tooth chainrings are so hard to find that there is a bicycle shop that had some custom made. I considered buying theirs, but they did not have theirs anodized. Anodizing is important because it hardens the surface. Anodized aluminum is harder than hardened steel. Aluminum oxide is the term for hardened aluminum; aluminum oxide is used in sandpaper and in grinding wheels. When you have a steel chain riding on your aluminum chainring, you want the chainring anodized so that it will not wear as fast. $60.
41 tooth chainring, 144BCD. When I found this 41 tooth chainring I bought it because it is rare and I figured I would need it some day as I age. As mentioned above, I sold the bicycle I was planning to use it on--in this case before I even had a chance to install it. If I were planning a ride in hilly terrain I would have installed it, otherwise I had no plans to install it until I needed it because the 42 tooth chainring was perfect for the terrain I usually ride. It has been slightly used, but not by me. RARE. $100.
BICYCLE SEATS
BIANCHI VOLPE BICYCLE SEAT. Stock seat with my Bianchi Volpe. Extremely comfortable. Softer than usual foam or gel. Extremely clean. Sexy looking. weighs 13 ounces. $55.
STELLA ITALIA BIANCHI BICYCLE SEAT RACING OR ROAD BICYCLE SEAT. Single piece cover over foam or gel. Comfortable for the type of saddle it is. Reflective red triangle in rear. 270mm long, 135mm wide. Very light weight. Weighs only 3/4#. $35.
SPECIALIZED BODY GEOMETRY BICYCLE SEAT RACING OR ROAD BICYCLE SEAT. Single piece cover over foam. Lots of relief down the middle. Comfortable for the type of saddle it is. 6" wide, 11" long. Weighs 1 pound. $35.
2 MIRRORS Will fit on ordinary diameter bicycle handlebars + they have adjustment capability. $20.
DUAL CHROME EXHAUSTS. Designed to make your ride look HOT! Non-functional. $30.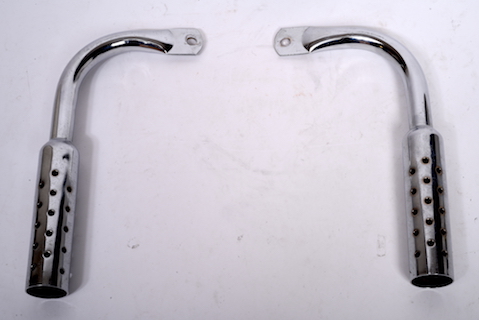 BICYCLE STANDS, TRAINERS, EXERCISE AIDS
BLACKBURN TRACK STAND FLUID. As good as I have seen. May double as a repair stand. May do triple duty as a bike stand in your van. Stable, heavy, easily adjusted. I made a wood bar to fit between the front and rear ends to keep the stand from folding up unexpectedly. $150.
CANNONDALE BUGGER BICYCLE TRAILERS
CANNONDALE BUGGER CARGO TRAILER, NEW-IN-BOX. Never Assembled. Not rusty. No mildew. Complete. I am keeping a used one for myself. My used one has lasted 40 years; it will last the rest of my lifetime. One of the best things about having a new-in-box bugger is that it need not be disassembled and packed for shipment. This new one is packaged in the most economical box size possible. Oftentimes the old ones do not come apart because they are rusted together. Instructions included. This is the model with the full zip up Nylon cloth cargo box. I am using one like it; the cloth has held up remarkably well. The 2 B&W images are from the instruction book. Classic design. Nobody has improved upon the design in my opinion. $OLD. I leave it up for your information.
CANNONDALE BUGGER CARGO TRAILER, well used, still usable, needs restoration. Inner tubes hold air. Swedish made tires: one is fine, one is older, but serviceable. The Nylon cloth cargo box is only in fair shape; the cloth itself is still strong, but the zipper needs replacing. I chose not to replace the zipper on an identical one that I am using; instead I just sewed it together and custom altered it for my purposes at the same time.....adding a Velcro sealed top flap. No hitch or handle, although I make them and sell then separately. The bugger I am using was purchased at the same time as this one and is in about the same condition; it will outlast me. $135.
CANNONDALE BUGGER CARGO TRAILER, well used, still going strong. I use this for hauling camera gear around. I have to sell it with the cabinet that I built to fit it because that cabinet will not fit the other buggers that I have. This model is open at the front and top. It is listed on my 35mm and DIGITAL CAMERA EQUIPMENT web page. You will find it about 40% of the way into the document. The cabinet is removable. When my car was in the shop for an extended period of time I used this bugger to carry groceries, laundry, etc. Soon I will be adding one more bugger cargo trailer.......another version of a photographic equipment hauler......with a built-in combination tripod mount and handle.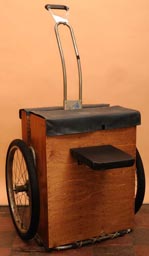 REPLACEMENT HITCH for CANNONDALE BUGGER CARGO TRAILER. I have 3 used cargo hauling buggers. All 3 came with broken bicycle hitches. Cannondale used a Polycarbonate plastic for their hitch. Polycarbonate is oftentimes used in "bulletproof glass." Polycarbonate is really tough stuff. You can bend it over against itself (if you are strong enough), but it will not break. The Polycarbonate will flex in use without breaking. To mount my hitch to your bicycle, remove your seatpost, slip the seatpost through the hitch and reinstall your seatpost on your bicycle. It is especially easy to do with quick release seatposts. It is a small inconvenience to pay for the lower cost of the hitch and the greater strength of the hitch. When loaded, bugger hitches ride up the seatpost. Cannondale's hitch had no provision for keeping the hitch from riding up the seatpost and neither does mine. My solution to that was to put a spare light mount on the seatpost that the hitch rests against. The truncated original Cannondale quick release hitch is $50, My single piece Polycarbonate hitch is $30. I also make handles for using the bugger as a hand cart, $45. Note: I offer these hitches strictly for use in hauling cargo. I do not offer them for the purpose of hauling people or living beings. The problem with Polycarbonate is that it becomes brittle with exposure to ultraviolet light. Although Polycarbonate is guaranteed unbreakable, that guarantee is only for 3 years. Polycarbonate is still the best material for a hitch because of its good qualities. Just be aware that you will have to replace it every few years. I have never seen an intact Cannondale hitch other than the one with the new-in-box bugger. The one on the left looks intact at 1st glance, but it is truncated, or shortened. I made the one piece Polycarbonate hitch as a replacement for the original. I could make it with a quick release mount like the original, but I would have to charge too much for it. I made it out of a single piece of Polycarbonate to keep it simple and keep it affordable. The 28mm diameter hole for the seat post is the same size as in the Cannondale hitch; if you need one with a different sized hole, I can provide that for a slight additional fee. The 1st pull handle has been sold. The 2nd pull handle (the one that looks like a stylized cat or owl) is one I have been using for about a year. The Nylon rod that was with the original Cannondale hatch broke; I replaced it with a steel bolt covered with heat shrink tubing.
REPLACEMENT HITCH for CANNONDALE BUGGER CARGO TRAILER. This is my latest replacement Cannondale hitch; It is GUARANTEED NOT TO BREAK! This GLENNVIEW HITCH is 1" thick, 3" wide and 5.5" long. I tried to break a 6mm thick strip of the High Density Polypropylene that the hitch is made of. I was able to bend it, but it returned to its original shape after I let go of the vise grip. The retaining screw is covered with heat shrink tubing. $100
BUGGER SAFETY CABLE. Original equipment. Cannondale knew their hitches could fail and supplied these safety cables for when that happened. Wrap one end around the seat post and the other end around the metal U-shaped Bugger stem that the hitch is bolted to. $20 each.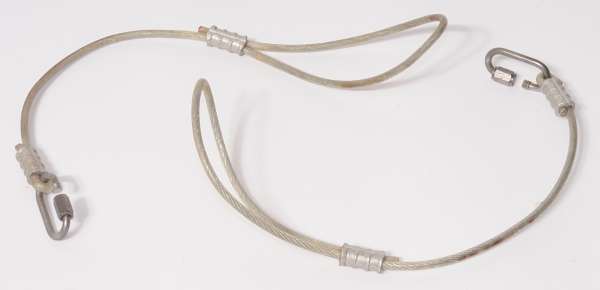 RECOIL PAD. Ranger brand, marketed by Sears Roebuck & Co., complete with instructions and mounting hardware. 1.75 X 5". NEW-OLD-STOCK. $15
CAMPING GEAR
Tentpegs. German made aluminum tentpegs, each in its own protective tube. 4 sets of 4 available. Each set also come with a piece of plastic covered cord and a cloth case. $10 each set.

BOOKS ON SPORTS
"Sports," by Neil Leifer, hardcover, dust jacket, 11X14", color photos, 186 pages, 1992, Mint, $35
"Olympia," by Leni Riefenstahl, documentation for the "Olympia" film with numerous photographs of the olympic games 1936, picture sequence (except pages 11 and 12 of the original edition, omitted for reasons of space) and captions as in the original edition of 1937, hardcover, dust jacket, 286 pages, 1988, B&W photos, 10X12.5", Mint, $50
---
about glennview, orders, inquiries
---
email to glennview
---
return to the table of contents for glennview
---