MINOX
Minox B, case, chain, lightmeter not working, camera body extremely clean. Minox B owner's manual, Ex. 3 boxes outdated film. $100. Receive $50 off enlarger listed below when purchased with this outfit.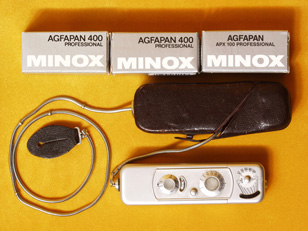 Minox"camera clamp" tripod adaptor, with cable release socket, Ex, $25
ENLARGERS FOR MINOX
DURST M300, condenser enlarger, compact, 19" high, 14X14" baseboard, Minox negative carier, 35mm negative carrier, 9X magnification possible on baseboard with 50mm lens, 19X magnification possible on baseboard with 28mm lens, filter drawer, lensboard, smaller than a Minox enlarger. Enlarger comes with a 35mm negative carrier. Enlarger comes with a flat lensboard with 25mm threads for some Schneider lenses, which are listed separately because they are universal and will work with many enlargers. If you want to print Minox negatives with this enlarger, you will need a minox carrier, a 28mm lens and lensboard. Mint-, $50
Enlarging lenses: see Other Enlargers and Enlarging Lenses web page.
LEITZ ENLARGERS
Any of the 35mm Leitz enlargers found on my Leitz enlargers list will allow you to print Minox film. Minox carriers were made for the Leitz enlargers. Because the Leitz enlarger requires a 15mm extension tube for use with a 50mm lens, you merely remove the extension tube for use with a 35mm lens.
Minox Literature
Minox B owner's manual covers model with built-in exposure model, 48 pages + fold-out covers, Ex, $40, copy of, $20
Minox Daylight Developing Tank working directions small fold-out brochure, Ex, $15, copy, $10
---
---
about glennview, orders, inquiries
---
email to GLENNVIEW
---
return to the table of contents for glennview
---